We understand the demands of today's competitive marketplace and know that cost, service and security are critical success factors when it comes to your point-of-sale equipment. We'll be glad to review your needs and identify the best choices for your business, including terminals for lease or purchase to accept secure credit, debit, gift cards and wireless payment options.
We offer a wide variety of terminals, to suit the specific needs of your business. We'll help you identify which terminal is best for your unique business.
---
Ingenico Desk 3500
Rising to meet the new expectations of the latest class of consumers, this Ingenico smart terminal has the ability to change and transition apps to grow with the needs of the merchant. And leveraging Telium applications, the Desk/3500 creates a seamless payment experience and complies with future security standards.
Accepts all payment options
The Desk/3500 enables NFC couponing and wallet-use cases in addition to EMV chip and PIN, swipe, and contactless payments.
Boasts user-friendly and intuitive interface
Featuring intuitive card readers and an easy-to-use applications menu, the Desk/3500 provides an enhanced payment experience.
Highlights convenient NFC payment
Boosts NFC payments by offering customers a seamless experience through a conveniently located card reader zone and faster transaction flows.
Provides the highest security
The Desk/3500 is PCI-PTS 4.x certified. Its Telium TETRA OS uses the latest cryptographic schemes with future-proof key length.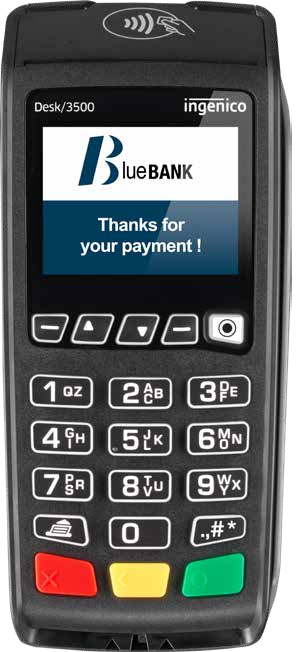 ---
Ingenico Desk 5000
Many small businesses are searching for simple, reliable and scalable payment solutions. Finding ways to reduce complexity and manage costs is key to keeping a business healthy. Discover how the Ingenico Desk/5000 can help you enhance your customers' checkout experience.
Robust security
The Desk/5000 is PCI-PTS 5.x certified and satisfies the latest hardware and software security requirements. Its Telium TETRA OS uses the latest cryptographic schemes with future-proof key length.
User-friendly and intuitive interface
Featuring powerful multimedia capabilities and a large 3.5- inch touchscreen, the Desk/5000 provides best-in-class user experiences thanks to a rich interface.
All payment options
The Desk/5000 supports all forms of electronic payments including EMV chip & PIN, chip & sign, magstripe, and NFC/contactless.
Seamless NFC payments
The Desk/5000 seamlessly enables contactless payment acceptance by providing a dedicated customer-facing NFC card reader zone for faster transaction flows.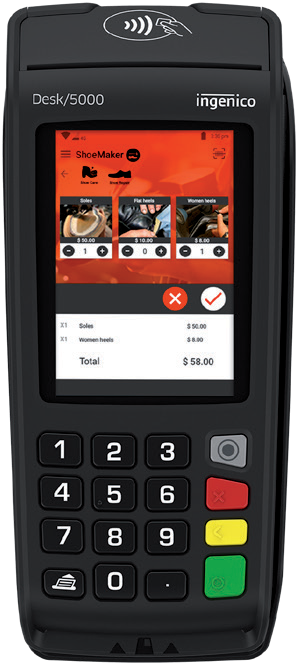 ---